D-One: Multipurpose rotisserie
Electric
Baskets
Smart Cooking
iClean
iRegul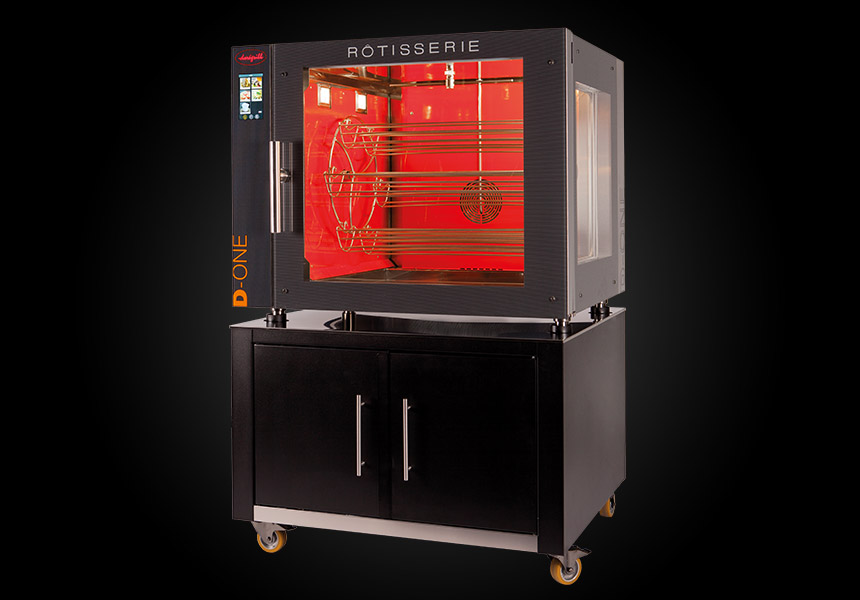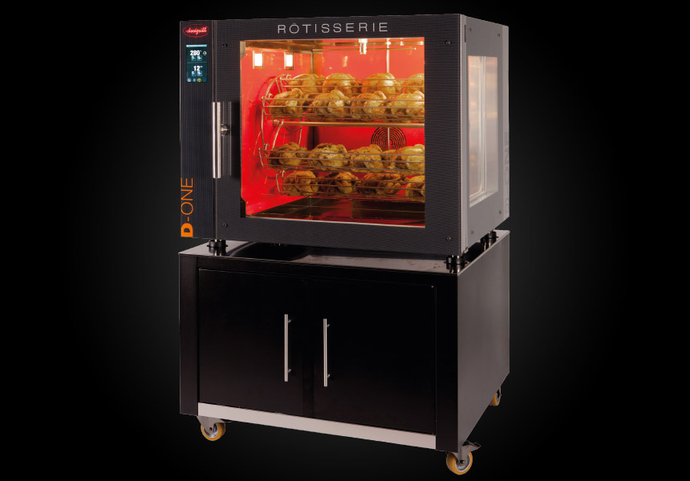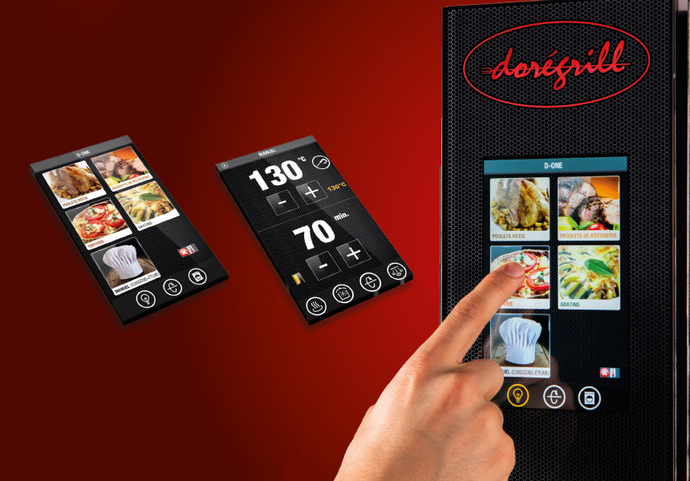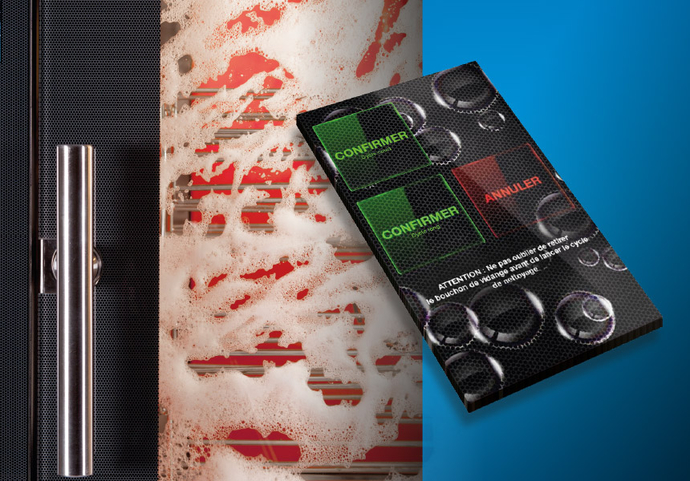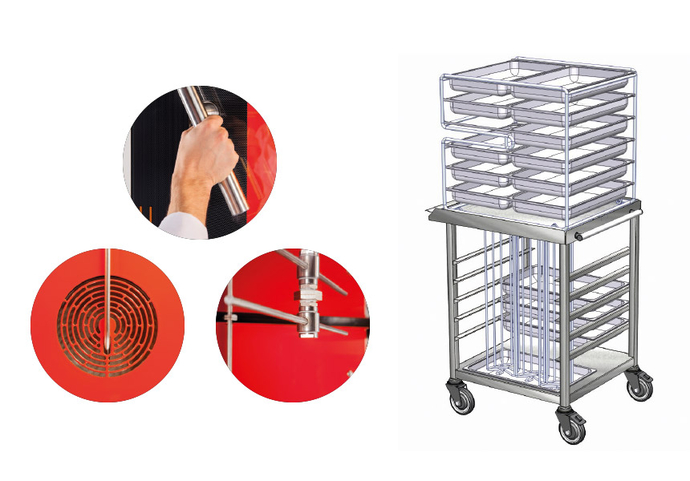 The innovation that revolutionizes
the rotisserie!
The multipurpose rotisserie
With the new D-ONE model, Dorégrill has revolutionized the rotisserie to boost your business and make your life easier! The D-ONE multipurpose, multifunction rotisserie can do it all:
Cook 24 chickens in under 30 minutes,
Producing delicious, old-fashioned, crispy roast chicken,
Plus a myriad of cooking options for prepared dishes, pizzas, and other pastry specialties.
The pioneering D-ONE is practical, powerful, and attractive, meeting your exacting professional standards while satisfying your customers' desire for an appetizing experience.
Setting new performance standards
The D-ONE multifunction rotisserie is the market's new gold standard in both design and performance. From cooking capacity and quality to ergonomics and cleaning, the D-ONE improves your rotisserie experience in every way.
New energy savings
With D-ONE, which boasts the internal iRegulControl program, you can save energy and increase profitability. All the rotisserie's electrical components are specially designed to reduce energy consumption. What's more, the smart touchscreen displays are designed to shut off automatically when the rotisserie is no longer in use.
Demander un devis
12 technical features for superior performance
Capacity
24 chickens (depending on weight)
11 GN 1/1 containers
11 1/1 racks
Large meat spit
Results
Unparalleled cooking results created by programs that combine fan-driven hot air (moisture retention) and direct infrared heating (browning and crisping). Plus the steam option for cooking delicate foods (Smart Cooking Function).
Ergonomics
Small footprint
Multifunction touchscreen for fingertip control
Built-in intelligent program
Appearance
"Showcase" cooking with a panoramic view (2 glazed sides), large glazed surface area, stainless-steel design, red enamel interior, rotating baskets.
Cleaning
Condition-based cleaning programs (iCleanControl) with washer arms, detergent (Déca-ONE), and hot water. Waterproof glass touchscreen control panel, built-in rapid-drain fat tray, and removable interior.
Safety
Double glazing on both sides, open-door sensor, waterproof touchscreen panel.
Multiple cooking options
Use the specially designed D-ONE accessories to meet all your needs:
Baskets for cooking chickens
Central spit for cooking large meat items (ham, turkey, etc.)
Multilevel cooking: 6 levels to hold 11 GN 1/1 or 11 1/1 cooking racks
Length
1150 mm
Height
975 mm
Height with stand or cart
1755 mm
Depth
1065 mm
Weight
217 kg
Number of baskets
6
Rack levels
6 niveaux
Number of GN 1/1
containers per level
11
Number of 1/1
racks per level
11
Water inlet
15/21 threaded cold
Water outlet
DN 32
Water pressure
Min 3 bars (mains pressure)
Cleaning power
6.2 Kw
Cooking power
9.5 Kw
Power
380 V (3 phases + neutral + ground)
Power outlet
20 Amps
Fingertip control
Make your life easier! At Dorégrill, we have always done our utmost to make our equipment easy to use. The D-ONE, with a touchscreen and built-in smart program, gives you many new stress-free cooking options.
A multifunction touchscreen
With a wide 7" touchscreen protected by a waterproof panel, the D-ONE guarantees easy-to-use, easy-to-read controls. You can choose from:
Program mode: Select the desired preset cooking program.
Manual mode: Set the precise cooking parameters you desire, to the exact degree.
Cooking modes: convection, steam, or a combination of the two.
A built-in intelligent program
With the Smart Cooking Function, the D-ONE guides you in choosing a cooking program. Let the expert technology make sure your cooking is a success! Choose from four product families and select the item to be cooked:
Roasted chickens
Rotisserie products
Pizza/pastries
Gratins
A revolutionary cleaning system
Forget the hassle of cleaning and save time! The D-ONE revolutionizes cleaning with an entirely independent self-cleaning system. This totally innovative system includes rotary washing, constant pressure, hot-water production, and the new Déca-ONEl detergent.
A new built-in cleaning program
The D-ONE has the iCleanControl program : a timed sequence of operations for optimized cleaning.
Two cycles to choose from: standard or short
Save your employees time! Depending on the rotisserie condition and day-to-day use, the D-ONE gives you a choice of two cleaning cycles to ensure a clean machine:
a normal cycle
a short cycle
---