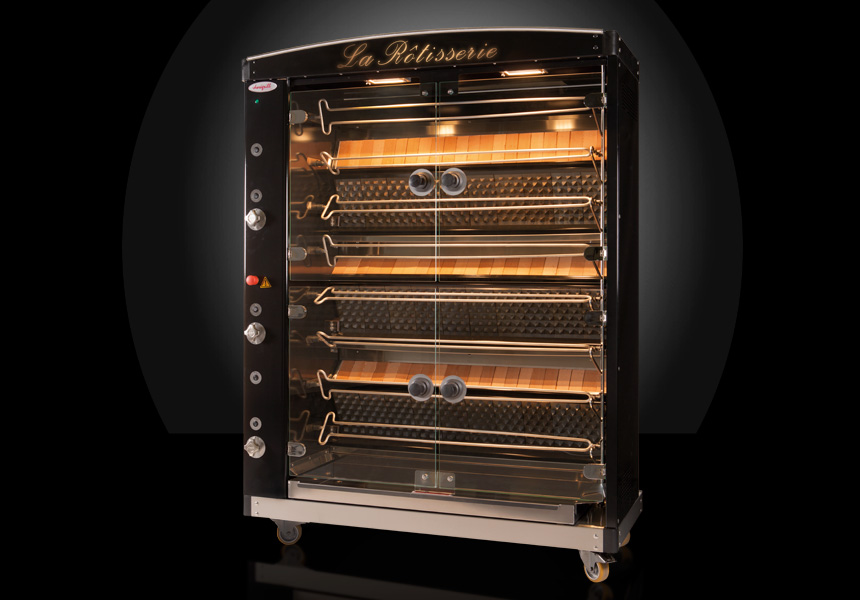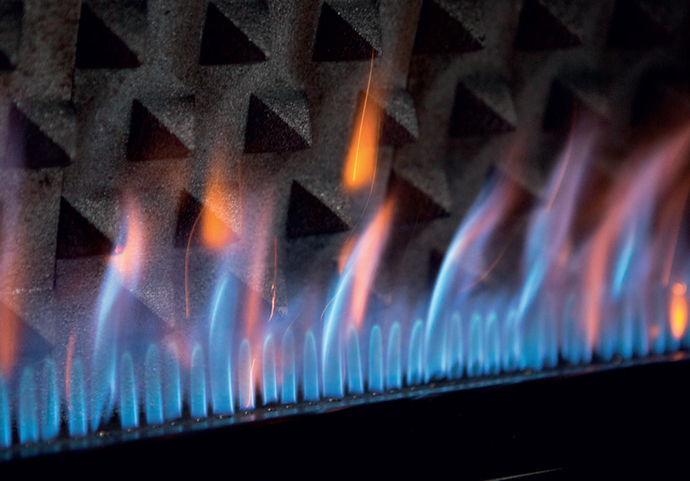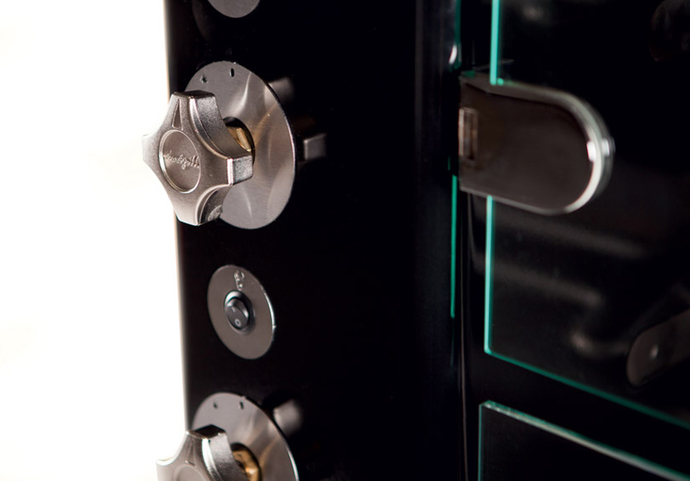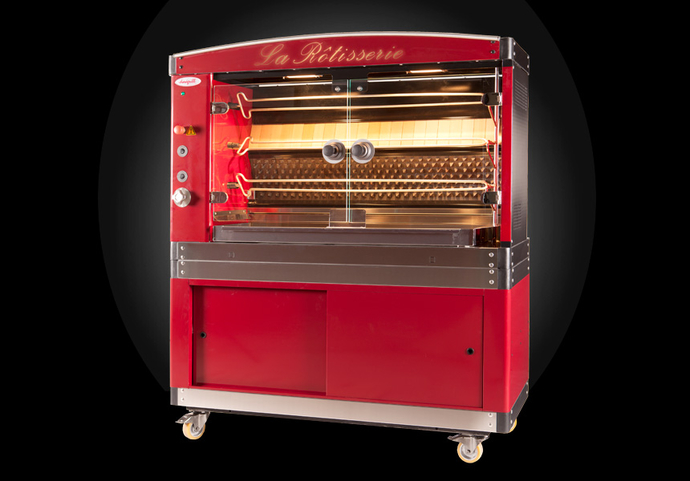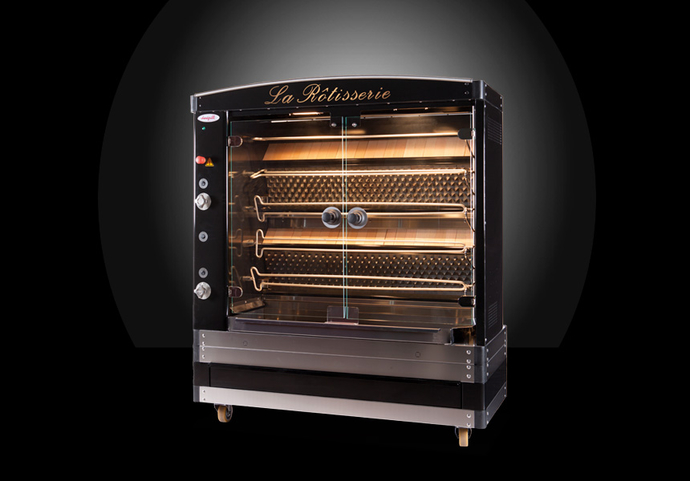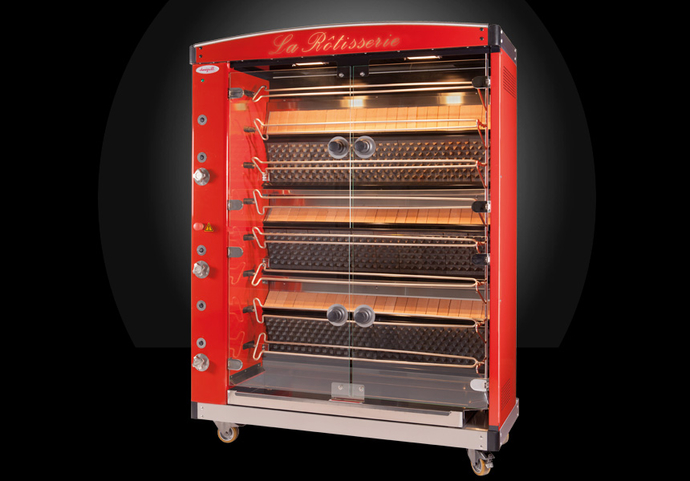 THE OLD-TIME ROTISSERIE OVEN IN ALL ITS GLORY
The quality of this rotisserie oven rests in the quality of the materials and its hand-crafted construction, giving it a high-quality finish.  Full stainless steel and enamel construction and refracting blocks and panels highlight the warm, authentic look of old-time cooking.
Demander un devis
The technical features of a timeless rotisserie oven
PERFORMANCE
Cooking using "Radiating Cast Iron" (patent filed by DOREGRILL). High yield "Live Flame" projectors make it look like cooking over an open fire.
CAPACITY
40 to 56 chickens per hour depending on the model.
A BEAUTIFUL DESIGN
A high-quality finish and combination of high-class materials (enamel and stainless steel), refracting side blocks, front panel with backlit "Rôtisserie" inscription, two water-proof glass-ceramic lights and silver-plated tap handles with the DOREGRILL logo.
SAFETY
Heat protection with 4 toughened glass windows (for MAGFLAM 8), emergency "big red" emergency stop button, glass door handles insulated from the heat by carbon washers, hinges fitted with an "open window" locking system.
EASY TO CLEAN
The interior can be fully dismantled, and the inside corners are rounded.
ERGONOMIC
Fitted with 8 depth-adjustable Simplifil® spits mounted on a removable stainless steel wire support. Burner heads are delivered with the model for cleaning and unused burner protection. Direct and guided spit insertion on high-powered independent motors with adjustable depth settings. Spring-mounted motor concealment panels (to stop fat from entering the housing). Lower fat tray with drainage faucet. A mobile unit with pivoting, brake-mounted casters.

POWER SUPPLY
Propane or natural gas. Low gas consumption thanks to the new regulation system and new, higher performance heaters.
Model
Length
Height
without cart
Height
with cart/model
Depth
Number of
spits
Capacity
per hour
(Depending on weight)
MAGFLAM 3
1480 mm
950 mm
1790 mm
690 mm
3
18/21 Vol.
MAGFLAM 5
1480 mm
1310 mm
1790 mm
690 mm
5
30/35 Vol.
MAGFLAM 8
1480 mm
1850 mm
1970 mm
690 mm
8
48/56 Vol.
MAGFLAM 5 (Small length)
1100 mm
1300 mm
1790 mm
690 mm
3
20/25 Vol.
MAGFLAM 8 (Small length)
1100 mm
1850 mm
1970 mm
690 mm
8
32/40 Vol.
Model
NOH*
Gas
Propane Gas G31
Nat. Gaz 20MB
MAGFLAM 3
17.3 kW
1.35 kg/h
1.8 m3/h
MAGFLAM 5
34.6 kg/h
2.7 kg/h
3.6 m3/h
MAGFLAM 8
51.9 kW
4.05 kg/h
5.4 m3/h
* Nominal heat output
Color schemes on offer
Standard

Signal black (RAL 9004)
Optional

Purple red (RAL 3004) or

Traffic red(RAL 3020)
Any other color scheme.