Néobox: combined rotisserie oven and self-service display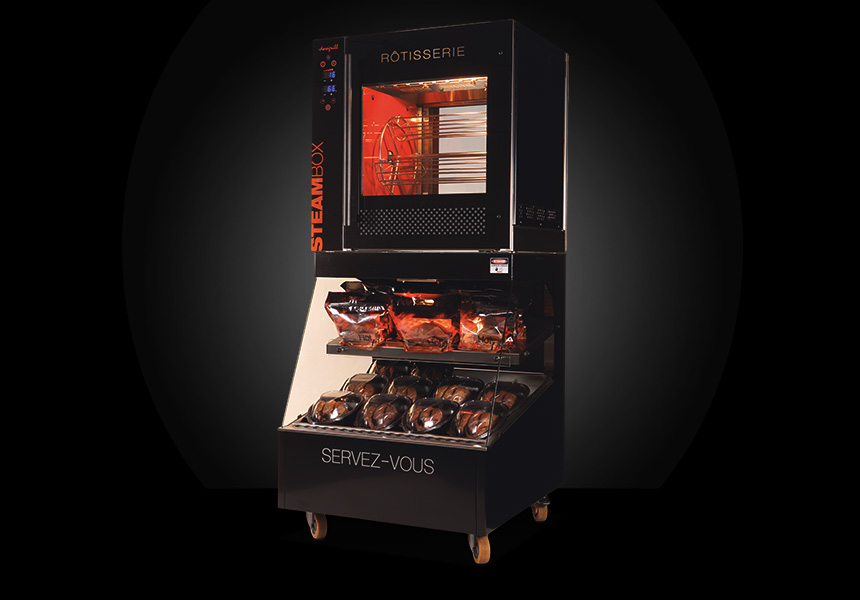 A winning combination!
A smart, original idea that lets you both cook and display all your rotisserie products in a self-service window.  Occupying just one square meter, with no extractor hood and fully mobile, whether you have it at the end of an aisle or against a wall, this design will guarantee impulse purchases. 
Use this attractive and practical design to boost your sales!
Demander un devis
Customer access from the front
Windows on each side for a panoramic view
2 stainless steel shelves, with the upper shelf set back
Fixed stainless steel backing
Black coating
Mobility with 4 castors, 2 with brakes
Glass-ceramic protection and lighting
Optional: assisted service (display closed off with two sliding windows at the front)
Capacity: up to 20 chickens
Dimensions
Length: 857mm
Depth: 900mm
Height: 900mm
Power supply
Standard: 380 + N + T
Overall unit power: 11.6 Kw
Delivered with 20 Amp male plug
Weight: 244 kg